First let me tell you this is just a short-term solution that could raise your hair volume instantly plus your hair can look more bouncy. Just for this solution you\'ll need just 1 ingredient that is baby powder.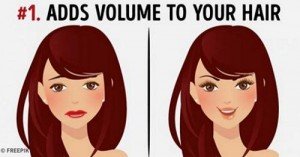 Just sprinkle some baby powder on your scalp and gently massage it in your roots and scalp. Now comb flowing hair until powder is not visible. And you should not worry you won\'t harm flowing hair instead will make them healthier.
You can also take this solution if your hair are oily and you don\'t have time and energy to shower. You should utilize baby powder as dry shampoo.